Due to low attendance this is going to be postponed until a later date.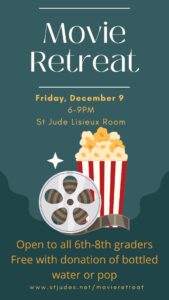 Bring your pillows, snacks, and comfy clothes to an day of movies.
When: Friday, December 9 from 6-9PM
Who: All 6th through 8th graders
Where: St Jude, 1120 4 Mile Rd NE 49525
Cost: This retreat is free with donation of bottled water or a 2 liter.
Additional info: Students can bring pillows and blankets to lay on, if they wish, but it is not necessary.